Âncora luxury 1st floor apartment (SS-3-1B)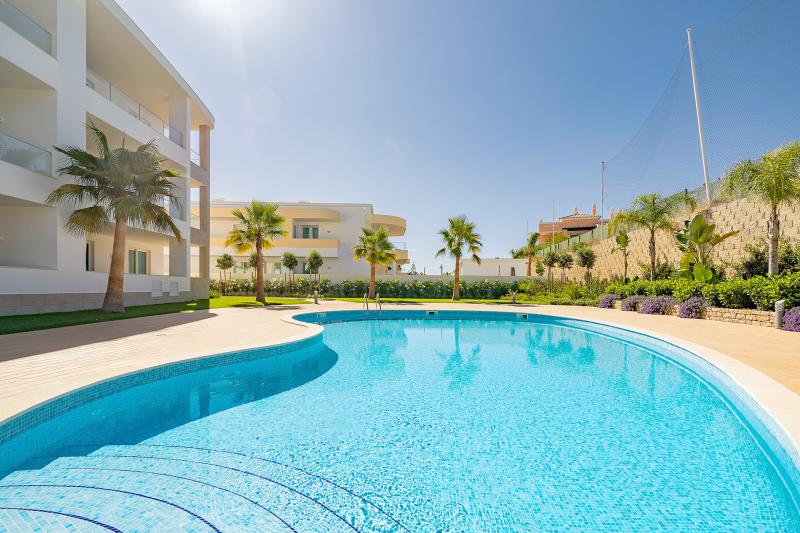 Stunning modern apartment in the new Vila Ancora Residences development, sleeping 6 (double, twin, and extra room with sofa-bed) and ideally located between the beaches and the Old Town of Lagos.
Situated on the first floor of the pristine new building within a private complex with a shared pool and manicured gardens.

Light and fresh, the open plan kitchen / living / dining space caters for 6 and the main balcony is furnished to dine 6 as well as having some relaxing lounge chairs. Furnishing and décor throughout are of a superior standard, both modern and comfortable. The kitchen is well equipped with modern appliances including washing machine, oven, hob, dishwasher, microwave and fridge-freezer.

The property has a good sized master bedroom with en-suite bathroom, a spacious twin bedroom and a snug room with a TV and a sofa-bed which can comfortably sleep two more people. All bedrooms have wardrobes and ample storage space. There is also a second family bathroom with a walk-in shower.

The property has WiFi and electric blinds, and both air-conditioning and underfloor heating ensuring it offers a comfortable and homely space all year around.

Less than 10 minutes walk, some excellent restaurants including Alma Lusa, Repolho, and A Comidinha.
10-15 minutes walk from the award-winning beach Praia Dona Ana or breath-taking Praia do Camilo (and the outstanding "Restaurante Camilo").
10-15 minutes walk to Ponte de Piedade with its amazing rock formations and hidden caves, enjoyed by boat trip or coastal cliff walk.
15-20 minutes walk into Lagos Old Town with an array of cafes, unique shops, and superb quality restaurants.


From:
€1,400/month
RATES:
Titular da Exploração do Estabelecimento:
Svein Sjoberg
Nº Licença:
110085/AL
ENQUIRE NOW
PROPERTY MAP
PROPERTY FEATURES:
Parking: Parking Space In Communal Garage
Air Conditioning
Fitted Wardrobes
Safe
Balcony
Cable TV
Swimming Pool: Shared
Car Recommended
Hairdryer
Heating: Underfloor
Iron & Ironing Board
Close to Beach
Walking distance to amenities
Coffee Maker
Walking distance to the beach
Dishwasher
Microwave
Washing Machine
WiFi Internet Access
En-suite bathroom
Availability
October 2021
S
M
T
W
T
F
S

1

2

3

4

5

6

7

8

9

10

11

12

13

14

15

16

17

18

19

20

21

22

23

24

25

26

27

28

29

30

31
November 2021
S
M
T
W
T
F
S

1

2

3

4

5

6

7

8

9

10

11

12

13

14

15

16

17

18

19

20

21

22

23

24

25

26

27

28

29

30
December 2021
S
M
T
W
T
F
S

1

2

3

4

5

6

7

8

9

10

11

12

13

14

15

16

17

18

19

20

21

22

23

24

25

26

27

28

29

30

31
January 2022
S
M
T
W
T
F
S

1

2

3

4

5

6

7

8

9

10

11

12

13

14

15

16

17

18

19

20

21

22

23

24

25

26

27

28

29

30

31
February 2022
S
M
T
W
T
F
S

1

2

3

4

5

6

7

8

9

10

11

12

13

14

15

16

17

18

19

20

21

22

23

24

25

26

27

28
March 2022
S
M
T
W
T
F
S
1
2
3
4
5
6
7
8
9
10
11
12
13
14
15
16
17
18
19
20
21
22
23
24
25
26
27
28
29
30
31
April 2022
S
M
T
W
T
F
S
1
2
3
4
5
6
7
8
9
10
11
12
13
14
15
16
17
18
19
20
21
22
23
24
25
26
27
28
29
30
May 2022
S
M
T
W
T
F
S
1
2
3
4
5
6
7
8
9
10
11
12
13
14
15
16
17
18
19
20
21
22
23
24
25
26
27
28
29
30
31
June 2022
S
M
T
W
T
F
S
1
2
3
4
5
6
7
8
9
10
11
12
13
14
15
16
17
18
19
20
21
22
23
24
25
26
27
28
29
30
July 2022
S
M
T
W
T
F
S
1
2
3
4
5
6
7
8
9
10
11
12
13
14
15
16
17
18
19
20
21
22
23
24
25
26
27
28
29
30
31
August 2022
S
M
T
W
T
F
S
1
2
3
4
5
6
7
8
9
10
11
12
13
14
15
16
17
18
19
20
21
22
23
24
25
26
27
28
29
30
31
September 2022
S
M
T
W
T
F
S
1
2
3
4
5
6
7
8
9
10
11
12
13
14
15
16
17
18
19
20
21
22
23
24
25
26
27
28
29
30
Enquire about this property / Booking Request