Porto de Mos Beach Condo - GFM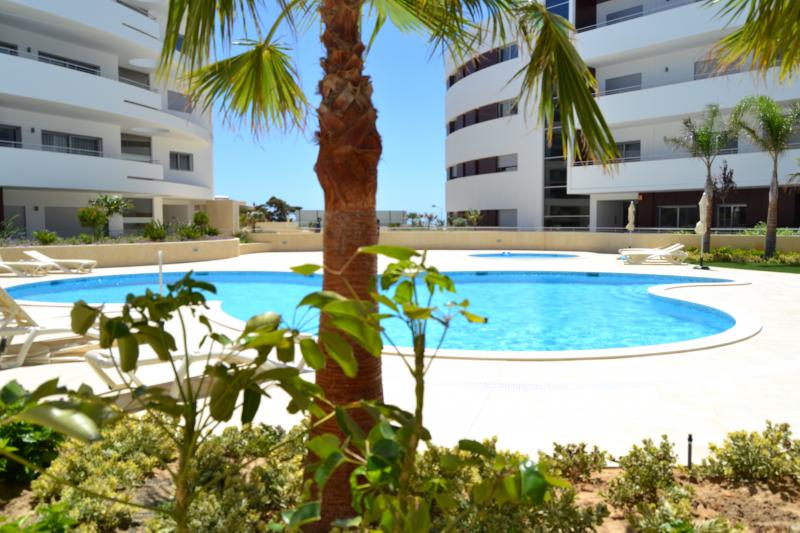 Quality two bedroom, ground floor apartment located at the sought after Porto de Mos Beach Condominium.
Close to Porto de Mos beach, the centre of Lagos and Boavista Golf and Spa resort, this development is a sought after location for annual rentals.

Modern, spacious and comfortable, this apartment is located on the ground floor. The lovely open plan living, dining and kitchen area has patio doors leading out onto the large terrace- the perfect space to socialise with family or friends.

The master bedroom has an en-suite, whilst the twin room has access to a guest bathroom. Both bathrooms have underfloor heating.

The property is well equipped with complete kitchen, air-conditioning, central vacuum, video entry system, electric shutters and a safe.

There are two outdoor pools within the condo, both with garden areas and one with a sea view. Tenants will also have access to the gym, sauna and garage parking.

Available immediately for annual rent.


From:
€1,000/month
RATES:
ENQUIRE NOW
PROPERTY MAP
PROPERTY FEATURES:
Air Conditioning
Furnished
Balcony
Walking distance to amenities
Close to Beach
Microwave
Coffee Maker
Washing Machine
Dishwasher
Double Glazing
Electric Shutters
Availability
November 2020
S
M
T
W
T
F
S

1

2

3

4

5

6

7

8

9

10

11

12
13
14
15
16
17
18
19
20
21
22
23
24
25
26
27
28
29
30
December 2020
S
M
T
W
T
F
S
1
2
3
4
5
6
7
8
9
10
11
12
13
14
15
16
17
18
19
20
21
22
23
24
25
26

27

28

29

30

31
January 2021
S
M
T
W
T
F
S

1

2

3

4

5

6

7

8

9

10

11

12

13

14

15

16

17

18

19

20

21

22

23

24

25

26

27

28

29

30

31
February 2021
S
M
T
W
T
F
S

1

2

3

4

5

6

7

8

9

10

11

12

13

14

15

16

17

18

19

20

21

22

23

24

25

26

27

28
March 2021
S
M
T
W
T
F
S

1

2

3

4

5

6

7

8

9

10

11

12

13

14

15

16

17

18

19

20

21

22

23

24

25

26

27

28

29

30

31
April 2021
S
M
T
W
T
F
S

1

2

3

4

5

6

7

8

9

10

11

12

13

14

15

16

17

18

19

20

21

22

23

24

25

26

27

28

29

30
May 2021
S
M
T
W
T
F
S

1

2

3

4

5

6

7

8

9

10

11

12

13

14

15

16

17

18

19

20

21

22

23

24

25

26

27

28

29

30

31
June 2021
S
M
T
W
T
F
S

1

2

3

4

5

6

7

8

9

10

11

12

13

14

15

16

17

18

19

20

21

22

23

24

25

26

27

28

29

30
July 2021
S
M
T
W
T
F
S

1

2

3

4

5

6

7

8

9

10

11

12

13

14

15

16

17

18

19

20

21

22

23

24

25

26

27

28

29

30

31
August 2021
S
M
T
W
T
F
S

1

2

3

4

5

6

7

8

9

10

11

12

13

14

15

16

17

18

19

20

21

22

23

24

25

26

27

28

29

30

31
September 2021
S
M
T
W
T
F
S

1

2

3

4

5

6

7

8

9

10

11

12

13

14

15

16

17

18

19

20

21

22

23

24

25

26

27

28

29

30
October 2021
S
M
T
W
T
F
S

1

2

3

4

5

6

7

8

9

10

11

12

13

14

15

16

17

18

19

20

21

22

23

24

25

26

27

28

29

30

31
Enquire about this property / Booking Request