Arão Private Countryside Villa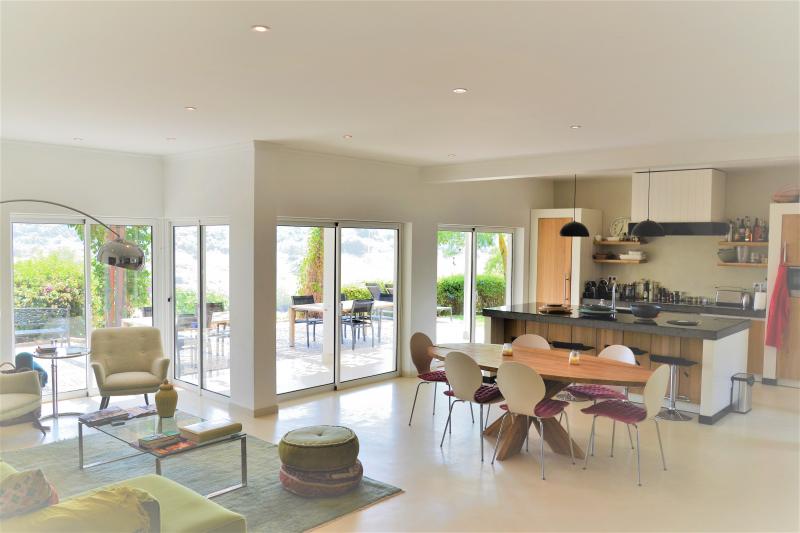 Beautiful 4 bedroom, 4 bathroom private villa located in the heart of the Arão countryside.
Stylish and modern, this stunning single-level villa is the perfect home for the winter months. Located on a 4ha plot 1.5km from the hamlet of Arão, the villa is completely private. Surrounded by open countryside views, you can enjoy the winter sunshine in this tranquil and peaceful setting.

Finished to a very high standard, the open plan living, dining and kitchen area is bright and beautiful. From here you have access onto the terrace, with BBQ, outdoor eating area and garden.

With large glass doors fitted throughout the villa, there is an abundance of light with countryside views to be enjoyed from each room.

All four bedrooms are fitted with air-conditioning, underfloor heating and have access to an individual bathroom, two of which are ensuite. All bathrooms are fitted with heated towel rails.

There are five bedrooms in the villa, however one will be closed for storage of the owner's belongings. Tenants may choose which room they use as the fourth bedroom depending on which suites their needs: the twin bedroom, or the children's room with bunk beds.

A small path leads to a secluded swimming pool, where you can relax surrounded by nature; views of the lake, beautiful blossoms and the open countryside. The pool can be heated.

Available November until April for 1800€ per month, plus utilities.

Please note that pets are not permitted.


From:
€1,800/month
RATES:
ENQUIRE NOW
PROPERTY MAP
PROPERTY FEATURES:
Air Conditioning
Furnished
Balcony
BBQ
Swimming Pool: Heated
Car Essential
Terrace
Heating: Central, Underfloor
View: Country
Availability
May 2020
S
M
T
W
T
F
S
1
2
3
4
5
6
7
8
9
10
11
12
13
14
15
16
17
18
19
20
21
22
23
24
25
26
27
28
29
30
31
June 2020
S
M
T
W
T
F
S
1
2
3
4
5
6
7
8
9
10
11
12
13
14
15
16
17
18
19
20
21
22
23
24
25
26
27
28
29
30
July 2020
S
M
T
W
T
F
S
1
2
3
4
5
6
7
8
9
10
11
12
13
14
15
16
17
18
19
20
21
22
23
24
25
26
27
28
29
30
31
August 2020
S
M
T
W
T
F
S
1
2
3
4
5
6
7
8
9
10
11
12
13
14
15
16
17
18
19
20
21
22
23
24
25
26
27
28
29
30
31
September 2020
S
M
T
W
T
F
S
1
2
3
4
5
6
7
8
9
10
11
12
13
14
15
16
17
18
19
20
21
22
23
24
25
26
27
28
29
30
October 2020
S
M
T
W
T
F
S
1
2
3
4
5
6
7
8
9
10
11
12
13
14
15
16
17
18
19
20
21
22
23
24
25
26
27
28
29
30
31
November 2020
S
M
T
W
T
F
S
1
2
3
4
5
6
7
8
9
10
11
12
13
14
15
16
17
18
19
20
21
22
23
24
25
26
27
28
29
30
December 2020
S
M
T
W
T
F
S
1
2
3
4
5
6
7
8
9
10
11
12
13
14
15
16
17
18
19
20
21
22
23
24
25
26
27
28
29
30
31
January 2021
S
M
T
W
T
F
S
1
2
3
4
5
6
7
8
9
10
11
12
13
14
15
16
17
18
19
20
21
22
23
24
25
26
27
28
29
30
31
February 2021
S
M
T
W
T
F
S
1
2
3
4
5
6
7
8
9
10
11
12
13
14
15
16
17
18
19
20
21
22
23
24
25
26
27
28
March 2021
S
M
T
W
T
F
S
1
2
3
4
5
6
7
8
9
10
11
12
13
14
15
16
17
18
19
20
21
22
23
24
25
26
27
28
29
30
31
April 2021
S
M
T
W
T
F
S
1
2
3
4
5
6
7
8
9
10
11
12
13
14
15
16
17
18
19
20
21
22
23
24
25
26
27
28
29
30
Enquire about this property